Michigan's LTAP offers several loan programs to assist transportation agencies. Contact the Center for Technology & Training (CTT) at ctt@mtu.edu or (906) 487-2102 to request materials or to learn more about the loan programs below.
Retroreflectometer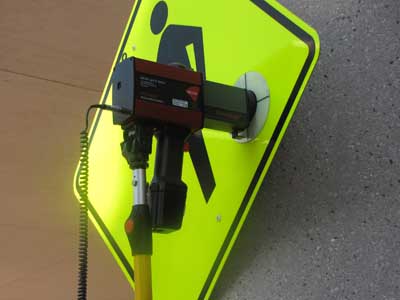 Michigan's LTAP is providing local agencies with the option to borrow its Delta®RetroSign GR3 retroreflectometer. This retroreflectometer can be used as part of a program for maintaining sign retroreflectivity levels as required by the Federal Highway Administration. Local agencies can borrow the equipment for a period of up to two weeks. There is no rental fee, but borrowing agencies are responsible for shipping and insurance costs.
Borrowing and Training Requirements
Anyone using the retroreflectometer must sign and adhere to a loan agreement, and view a training video prior to using the equipment.
Print Publications
Michigan's LTAP has a variety of resources available for loan, for sale, and for free. Quantities are limited and are distributed on a first-come, first-served basis. Publications on loan can be borrowed for a period of up to three weeks. The borrowing agency is responsible for paying return shipping only.