Pavement Warranties
In 2019, new legislation required local road-owning agencies to consider pavement warranties on paving projects. Here, we are providing you with resources to help you understand what your agency needs to do to be compliant with the legislation and decide if a warranty is suitable on each of your various paving projects. 
---
Pavement Warranty Training Series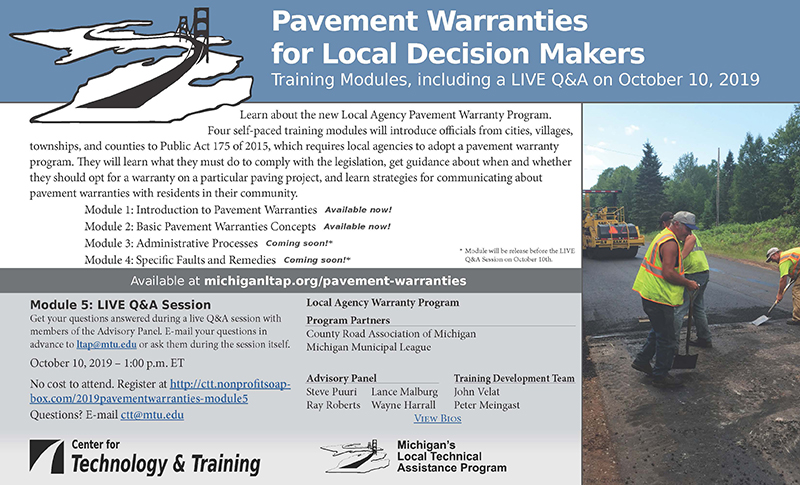 Module 1: Introduction to Pavement Warranties
Video download | Live streaming
Module 2: Basic Pavement Warranties Concepts
Video download | Live streaming
Other resources:
- 2003 FHWA International Technology Scanning Program Summary Report: https://international.fhwa.dot.gov/apw/apwscan.pdf
Module 3: Administrative Processes
Video download | Live streaming
Module 4: Specific Faults and Remedies
Video download | Live streaming
Module 5: Question and Answer Session
Video download | Live streaming
Pavement Warranty Administration and Inspection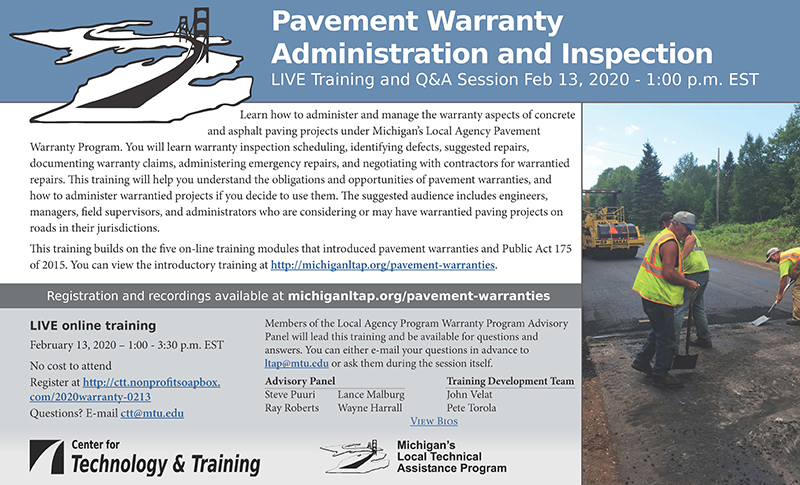 Administration and Inspection Training
---
Other Resources
Pavement Warranties Partner Pages
County Road Association of Michigan: https://micountyroads.org/login-2/
Michigan Municipal League: http://www.mml.org/advocacy/pavement-warranty/index.html
Pavement Warranties Advisory Panel
Steve Puuri – CRA/MML Engineering Specialist
Ray Roberts – Marquette County Road Commission Commissioner
Lance Malburg – Dickinson County Road Commission County Highway Engineer
Wayne Harrall – Kent County Road Commission Deputy Managing Director
Pavement Warranties Training Development Team
John Velat – Center for Rural and Tribal Community Resilience Director
Pete Torola – Center for Technology & Training Research Engineer II
Questions?
Contact ltap@mtu.edu